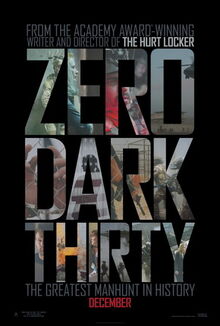 Zero Dark Thirty is a 2012 American action thriller film directed by Kathryn Bigelow and written by Mark Boal. Billed as "the story of history's greatest manhunt for the world's most dangerous man", the film dramatizes the decade-long manhunt for al Qaeda leader Osama bin Laden after the September 11, 2001 terrorist attacks in the United States. This search eventually leads to the discovery of his compound in Pakistan, and the military raid on it that resulted in his death on May 2, 2011.
The film stars Jessica Chastain as Maya, a fictional CIA intelligence analyst, with Jason Clarke, Joel Edgerton, Jennifer Ehle, Mark Strong, Kyle Chandler, Édgar Ramírez and James Gandolfini in supporting roles. It was produced by Boal, Bigelow, and Megan Ellison, and was independently financed by Ellison's Annapurna Pictures. The film had its premiere in Los Angeles, California on December 19, 2012, and had its wide release on January 11, 2013.
Zero Dark Thirty received wide critical acclaim, and appeared on 95 critics' top ten lists of 2012. It was nominated in five categories at the 85th Academy Awards, including Best Picture, Best Actress for Chastain, Best Original Screenplay, and Best Film Editing, and won the award for Best Sound Editing. The film also earned Golden Globe Award nominations for Best Motion Picture – Drama, Best Director, and Best Screenplay, with Chastain winning the award for Best Actress in a Motion Picture – Drama.
The film's depiction of enhanced interrogation generated controversy, with some critics describing it as pro-torture propaganda, as the interrogations are shown producing reliably useful and accurate information. Acting CIA director Michael Morell stated, "The film creates the strong impression that the enhanced interrogation techniques ... were the key to finding bin Laden. That impression is false." Other critics described it as an anti-torture exposure of interrogation practices.
Republican Congressman Peter T. King charged that the filmmakers were given improper access to classified materials, which they denied. An unreleased draft IG report published by the Project on Government Oversight in June 2013 stated that former CIA Director Leon Panetta discussed classified information during an awards ceremony for the SEAL team that carried out the raid on the bin Laden compound. Unbeknownst to Panetta, screenwriter Mark Boal was among the 1,300 present during the ceremony.
Ad blocker interference detected!
Wikia is a free-to-use site that makes money from advertising. We have a modified experience for viewers using ad blockers

Wikia is not accessible if you've made further modifications. Remove the custom ad blocker rule(s) and the page will load as expected.