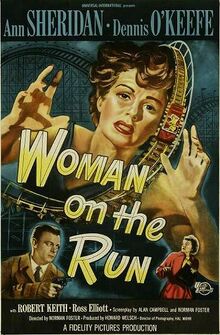 Woman on the Run is a 1950 black-and-white film noir co-written and directed by Norman Foster and featuring Ann Sheridan, Dennis O'Keefe, Robert Keith and Ross Elliott. The film was based on the April 1948 short story Man on the Run by Sylvia Tate and filmed on location in San Francisco, California.
Ad blocker interference detected!
Wikia is a free-to-use site that makes money from advertising. We have a modified experience for viewers using ad blockers

Wikia is not accessible if you've made further modifications. Remove the custom ad blocker rule(s) and the page will load as expected.