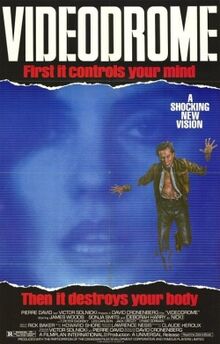 Videodrome is a 1983 Canadian postmodernist science fiction body horror film written and directed by David Cronenberg, starring James Woods, Sonja Smits, and Deborah Harry.
Set in Toronto in the early 1980s, it follows the CEO of a small television station who discovers a broadcast signal featuring extreme violence and torture. Layers of deception unfold as he uncovers the signal's source and loses touch with reality in a series of increasingly bizarre and violent hallucinations.
Ad blocker interference detected!
Wikia is a free-to-use site that makes money from advertising. We have a modified experience for viewers using ad blockers

Wikia is not accessible if you've made further modifications. Remove the custom ad blocker rule(s) and the page will load as expected.