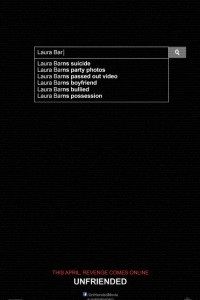 Unfriended (originally released as Cybernatural, working title Offline) is a 2014 American found footage supernatural horror film directed by Russo-Georgian director Levan Gabriadze, written by Nelson Greaves, and produced by Timur Bekmambetov, Jason Blum, and Greaves.
The film premiered at the Fantasia Festival on July 20, 2014, and at SXSW on March 13, 2015. It received a theatrical release on April 17, 2015. The film stars Shelley Hennig as one of several friends who find themselves terrorized online by an anonymous person. A variation on the found footage genre, the entire film is set in real-time on a character's computer screen. The film received mixed to positive reviews from critics and has grossed over $48.03 million against a budget of $1 million, becoming a huge financial success.
Ad blocker interference detected!
Wikia is a free-to-use site that makes money from advertising. We have a modified experience for viewers using ad blockers

Wikia is not accessible if you've made further modifications. Remove the custom ad blocker rule(s) and the page will load as expected.