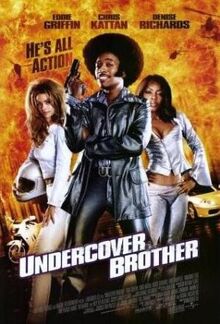 Undercover Brother is a 2002 American action comedy film starring Eddie Griffin and directed by Malcolm D. Lee. The screenplay is by Michael McCullers and co-executive producer John Ridley, who created the original Internet animation characters. It spoofs blaxploitation films of the 1970s as well as a number of other films, most notably the James Bond franchise. It also stars former Saturday Night Live cast member Chris Kattan and comedian Dave Chappelle as well as Aunjanue Ellis, Neil Patrick Harris, Denise Richards, and Billy Dee Williams, and features a cameo by James Brown.
Ad blocker interference detected!
Wikia is a free-to-use site that makes money from advertising. We have a modified experience for viewers using ad blockers

Wikia is not accessible if you've made further modifications. Remove the custom ad blocker rule(s) and the page will load as expected.