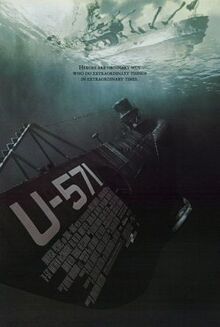 U-571 is a 2000 war film directed by Jonathan Mostow, and starring Matthew McConaughey, Bill Paxton, Harvey Keitel, Thomas Kretschmann, Jon Bon Jovi, Jack Noseworthy, Will Estes and Tom Guiry. In the film, a World War II German submarine is boarded in 1942 by disguised United States Navy submariners seeking to capture her Enigma cipher machine.
The film was financially successful and generally well-received by critics in the USA and won an Academy Award for sound editing. The fictitious plot attracted substantial criticism since, in reality, it was British personnel from HMS Bulldog who first captured a naval Enigma machine (from U-110 in the North Atlantic in May 1941), months before the United States had even entered the war. The anger over the inaccuracies even reached the British Parliament, where Prime Minister Tony Blair stated that the film was an "affront" to British sailors.
The real U-571 was never involved in any such events, was not captured, and was in fact sunk in January 1944, off Ireland, by aShort Sunderland flying boat from No. 461 Squadron, Royal Australian Air Force.
U-571 was filmed in the Mediterranean, near Rome and Malta.