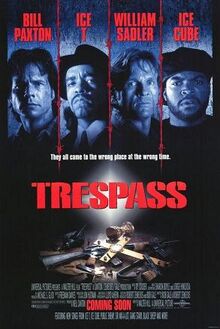 Trespass is a 1992 action-crime-thriller movie directed by Walter Hill, starring Bill Paxton, Ice Cube, Ice-T, and William Sadler. Paxton and Sadler star as two firemen who decide to search an abandoned building for a hidden treasure but wind up being targeted by a street gang.
Plot
Firefighters Vince (Bill Paxton) and Don (William Sadler) venture into gang-infested territory to find gold that's been hidden inside an abandoned building. But when they witness a murder, they become the targets of crime lord King James (Ice-T) and his underling Savon (Ice Cube). Fortunately, the treasure hunters have kidnapped a bargaining chip: King James' half-brother, Lucky (Devoreaux White). But this might not be enough to get them -- and their gold -- out of the building intact.
Trespass was written years earlier by a pre-Back to the Future Robert Zemeckis and Bob Gale.
Ad blocker interference detected!
Wikia is a free-to-use site that makes money from advertising. We have a modified experience for viewers using ad blockers

Wikia is not accessible if you've made further modifications. Remove the custom ad blocker rule(s) and the page will load as expected.