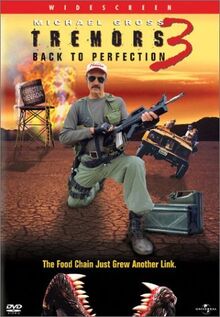 Tremors 3: Back to Perfection is a 2001 direct-to-video western monster film directed by Brent Maddock, and is the third installment in the Tremors series featuring the subterranean worm-creatures dubbed "Graboids". It is a sequel to Tremors 2: Aftershocks. Michael Gross, Charlotte Stewart, Ariana Richards, Tony Genaro, and Robert Jayne reprise their roles from the first film. It is followed by Tremors 4: The Legend Begins.
Ad blocker interference detected!
Wikia is a free-to-use site that makes money from advertising. We have a modified experience for viewers using ad blockers

Wikia is not accessible if you've made further modifications. Remove the custom ad blocker rule(s) and the page will load as expected.