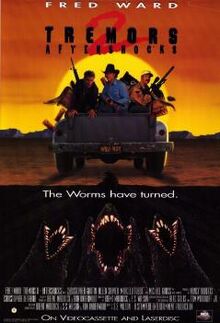 Tremors 2: Aftershocks is a 1996 direct-to-video sequel to Tremors, in which the character of Earl Bassett, returning from the first film, is hired to deal with a subterranean "graboid" infestation at a Mexican oilfield. It was directed by S.S. Wilson, and stars Fred Ward, Christopher Gartin, Michael Gross, and Helen Shaver. It was followed by a 2001 sequel, Tremors 3: Back to Perfection. It is the second film of the Tremors franchise.
Ad blocker interference detected!
Wikia is a free-to-use site that makes money from advertising. We have a modified experience for viewers using ad blockers

Wikia is not accessible if you've made further modifications. Remove the custom ad blocker rule(s) and the page will load as expected.