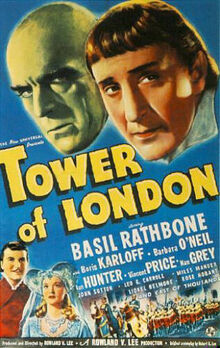 Tower of London is a 1939 black-and-white historical film and quasi-horror film released by Universal Pictures and directed by Rowland V. Lee. It stars Basil Rathbone as the future Richard III of England, and Boris Karloff as his fictitious club-footed executioner Mord. Vincent Price, in only his third film, appears as George, Duke of Clarence. Actor John Rodion, who appears in a small role, is actually Rodion Rathbone, Basil's son.
The film is based on the traditional depiction of Richard rising to become King of England in 1483 by eliminating everyone ahead of him. Each time Richard accomplishes a murder, he removes one figurine from a dollhouse resembling a throneroom. Once he has completed his task, he now needs to defeat the exiled Henry Tudor to retain the throne.
The exterior castle sets constructed for this film became a staple of the Universal backlot and could be seen time and time again in subsequent films (most prominently in the 1952's The Black Castle).
Tower of London (1962 film) with Vincent Price now in the lead role borrowed the title. The newer film--not a remake--was made on an extremely low budget, with a small cast (and used stock footage from the 1939 version for the battle sequences), and placed far more of an emphasis on horror. Price later told Rathbone's biographer Michael Druxman that he felt Rathbone's performance as Richard was probably more historically genuine than either Laurence Olivier's or his own.
Ad blocker interference detected!
Wikia is a free-to-use site that makes money from advertising. We have a modified experience for viewers using ad blockers

Wikia is not accessible if you've made further modifications. Remove the custom ad blocker rule(s) and the page will load as expected.