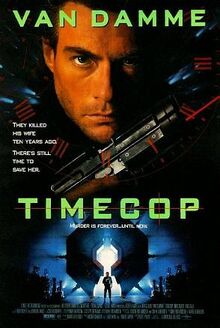 Timecop is a 1994 science fiction action film directed by Peter Hyams and co-written by Mike Richardson and Mark Verheiden. Richardson also served as executive producer. The film is based on Time Cop, a story written by Verheiden and drawn by Phil Hester and Chris Warner which appeared in the anthology comic Dark Horse Comics, published by Dark Horse Comics.
The film stars Jean-Claude Van Damme as a police officer in 1994 and a U.S. Federal agent in 2004, when time travel has been made possible. It also stars Ron Silver as a rogue politician and Mia Sara as the agent's wife. The story follows an interconnected web of episodes in the agent's life (or perhaps lives) as he fights time-travel crime and investigates the politician's unusually successful career.
Timecop remains Van Damme's highest grossing film (his second to break the $100 million barrier for a worldwide gross) as a lead actor. It is generally regarded as one of Van Damme's better films by critics.
Ad blocker interference detected!
Wikia is a free-to-use site that makes money from advertising. We have a modified experience for viewers using ad blockers

Wikia is not accessible if you've made further modifications. Remove the custom ad blocker rule(s) and the page will load as expected.