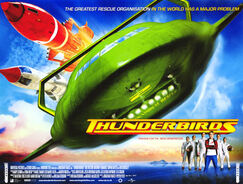 Thunderbirds is a 2004 British-American-French science-fiction comedy action-adventure film based on the 1960s television series of the same name, directed by Jonathan Frakes.
The film, written by William Osborne and Michael McCullers, was released on 24 July 2004 in the United Kingdom and 30 July 2004 in the United States, with later opening dates in other countries. Whereas the original TV series used a form of puppetry termed "Supermarionation", the film's characters are portrayed by live-action actors.
Thunderbirds received mainly negative reviews, and was a box office bomb. The creator of the original series Gerry Anderson disliked the film calling it "the biggest load of crap I've seen in my entire life"
However the film's soundtrack includes the song "Thunderbirds are Go" by pop rock band Busted, which peaked at number one in the UK charts and later won the 2004 UK Record of the Year award.
Ad blocker interference detected!
Wikia is a free-to-use site that makes money from advertising. We have a modified experience for viewers using ad blockers

Wikia is not accessible if you've made further modifications. Remove the custom ad blocker rule(s) and the page will load as expected.