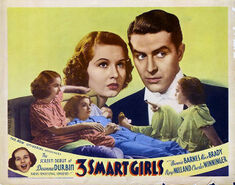 Three Smart Girls is a 1936 American musical comedy film directed by Henry Koster and starring Barbara Read, Nan Grey, Deanna Durbin, and Ray Milland. The film, Durbin's feature film debut, had a screenplay by Adele Comandini and Austin Parker, and is about three sisters who travel to New York City to prevent their father from remarrying. The three plot to bring their divorced parents back together again.
It began an eight-year era of successful Deanna Durbin musicals and spawned two sequels, Three Smart Girls Grow Up and Hers to Hold.
Ad blocker interference detected!
Wikia is a free-to-use site that makes money from advertising. We have a modified experience for viewers using ad blockers

Wikia is not accessible if you've made further modifications. Remove the custom ad blocker rule(s) and the page will load as expected.