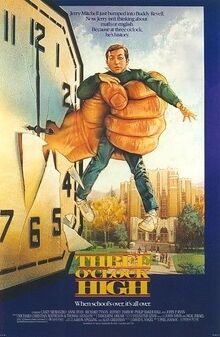 Three O'Clock High is a 1987 high-school comedy film, directed by Phil Joanou, written by Richard Christian Matheson and Thomas Szollosi; the executive producer was Aaron Spelling. The plot is loosely connected to the 1952 western classic, High Noon, where in a town sherriff is forced into a showdown with a notorious criminal at a pre-arranged time: high school student (Casey Siemaszko) accidentally offends a bully (Richard Tyson) and devotes most of his school day to avoiding a fistfight with the bully at 3:00 p.m.
The movie was filmed at Ogden High School in Ogden, Utah, but was based, in part, on Matheson and Szollosi's own high school experiences in California. Critical reception was mixed and the film did not do well at the box office; but on home video it has become something of a minor cult classic.
Ad blocker interference detected!
Wikia is a free-to-use site that makes money from advertising. We have a modified experience for viewers using ad blockers

Wikia is not accessible if you've made further modifications. Remove the custom ad blocker rule(s) and the page will load as expected.