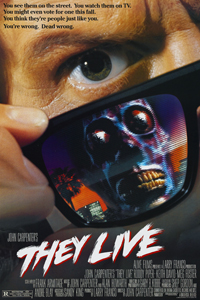 They Live is a 1988 American science fiction film written and directed by John Carpenter. The film stars Roddy Piper, Keith Davidand Meg Foster. It follows a nameless drifter referred to as "Nada", who discovers the ruling class are in fact aliens concealing their appearance and manipulating people to spend money, breed and accept the status quo with subliminal messages in mass media.
Ad blocker interference detected!
Wikia is a free-to-use site that makes money from advertising. We have a modified experience for viewers using ad blockers

Wikia is not accessible if you've made further modifications. Remove the custom ad blocker rule(s) and the page will load as expected.