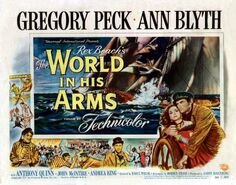 The World in His Arms is a 1952 seafaring adventure film made by Universal-International. It was directed by Raoul Walsh and produced by Aaron Rosenberg from a screenplay by Borden Chase and Horace McCoy. It is based on the novel by Rex Beach. The music score was by Frank Skinner and the cinematography by Russell Metty.
The film stars Gregory Peck, Ann Blyth and Anthony Quinn, with John McIntire, Carl Esmond, Andrea King, Eugenie Leontovich,Hans Conried, and Sig Ruman.
Ad blocker interference detected!
Wikia is a free-to-use site that makes money from advertising. We have a modified experience for viewers using ad blockers

Wikia is not accessible if you've made further modifications. Remove the custom ad blocker rule(s) and the page will load as expected.