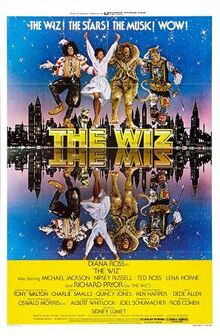 The Wiz is a 1978 American musical adventure film produced in collaboration between Motown Productions and Universal Pictures, and released by Universal on October 24, 1978. A reimagining of L. Frank Baum's The Wonderful Wizard of Oz featuring an entirely African-American cast, The Wiz was adapted from the 1975 Broadway musical of the same name. The film follows the adventures of Dorothy, a shy Harlem, New York, schoolteacher who finds herself magically transported to the Land of Oz, which resembles a fantasy version of New York City. Befriended by a Scarecrow, a Tin Man, and a Cowardly Lion, she travels through the land to seek an audience with the mysterious Wiz, who they say has the power to take her home.
Produced by Rob Cohen and directed by Sidney Lumet, The Wiz stars Diana Ross, Michael Jackson (in his only starring role in a theatrical film), Nipsey Russell, Ted Ross, Mabel King, Theresa Merritt, Thelma Carpenter, Lena Horne, and Richard Pryor. The film's story was reworked from William F. Brown's Broadway libretto by Joel Schumacher, and Quincy Jones supervised the adaptation of Charlie Smalls and Luther Vandross's songs for film. A handful of new songs, written by Jones and the songwriting team of Nickolas Ashford & Valerie Simpson, were added for the film version. Upon its original theatrical release, The Wiz was a critical and commercial failure, and marked the end of the resurgence of African-American films that began with the blaxploitation movement of the 1970s. Despite its initial failure, the film version of The Wiz would go on to become a cult classic, particularly among African-American audiences, Oz enthusiasts, and fans of Michael Jackson.
Ad blocker interference detected!
Wikia is a free-to-use site that makes money from advertising. We have a modified experience for viewers using ad blockers

Wikia is not accessible if you've made further modifications. Remove the custom ad blocker rule(s) and the page will load as expected.