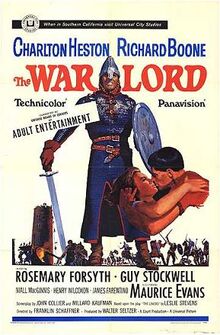 The War Lord is a 1965 American film about Medieval warfare in 11th century Normandy, starring Charlton Heston and directed by Franklin J. Schaffner. It is an adaptation of the play, The Lovers, by Leslie Stevens. The film also features Richard Boone, Rosemary Forsyth, Guy Stockwell, Maurice Evans, Niall MacGinnis, Henry Wilcoxon and James Farentino, with Jon Alderson, Allen Jaffe, Sammy Ross, and Woodrow Parfrey. Schaffner would later reteam with Heston and Evans in 1968 for Planet of the Apes.
Until this film, most Hollywood representations of feudal life were glamorized. The War Lord attempts to portray the 11th Century in a more accurate fashion as dirty, violent and ruled by brute force. The social stratification imposed by feudalism governed every human relationship, with power devolving from the duke, to the knight, to the men at arms, the church and the peasantry at the very bottom.
Ad blocker interference detected!
Wikia is a free-to-use site that makes money from advertising. We have a modified experience for viewers using ad blockers

Wikia is not accessible if you've made further modifications. Remove the custom ad blocker rule(s) and the page will load as expected.