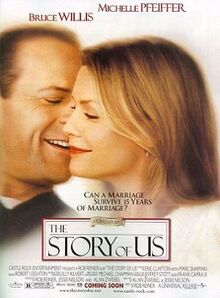 The Story of Us is a 1999 American romantic comedy drama film directed by Rob Reiner, and starring Bruce Willis and Michelle Pfeiffer as a couple married for 15 years.
The depiction of the marriage through a series of non-linear flashbacks is reminiscent of Two for the Road (1967) starring Albert Finney and Audrey Hepburn, while the "interview" segments featuring characters addressing the camera directly as a therapist are reminiscent of Reiner's previous film When Harry Met Sally... (1989) starring Billy Crystal and Meg Ryan.
Ad blocker interference detected!
Wikia is a free-to-use site that makes money from advertising. We have a modified experience for viewers using ad blockers

Wikia is not accessible if you've made further modifications. Remove the custom ad blocker rule(s) and the page will load as expected.