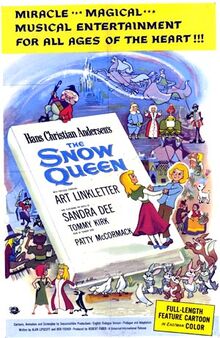 The Snow Queen (Russian: Снежная королева, Snezhnaya koroleva) is a 1957 Soviet feature animated film directed by Lev Atamanov. It was produced at the Soyuzmultfilm studio in Moscow and is based on the story of the same name by Hans Christian Andersen. The film was re-released with English soundtracks in 1959, 1993, and 1998.
Ad blocker interference detected!
Wikia is a free-to-use site that makes money from advertising. We have a modified experience for viewers using ad blockers

Wikia is not accessible if you've made further modifications. Remove the custom ad blocker rule(s) and the page will load as expected.