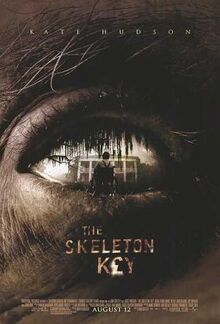 The Skeleton Key is a 2005 American supernatural horror film starring Kate Hudson, Gena Rowlands, John Hurt, Peter Sarsgaard, and Joy Bryant. The film centers on a young hospice nurse who acquires a job at a Terrebonne Parish plantation home, and becomes entangled in a supernatural mystery involving the house, its former inhabitants, and the hoodoo rituals and spells that took place there. It was released in cinemas in the United Kingdom on July 29, 2005, and in the U.S. on August 12, 2005.
Ad blocker interference detected!
Wikia is a free-to-use site that makes money from advertising. We have a modified experience for viewers using ad blockers

Wikia is not accessible if you've made further modifications. Remove the custom ad blocker rule(s) and the page will load as expected.