The Simpsons Ride is a simulator based on the popular Simpsons franchise at two Universal theme parks . (
Florida
 and 
California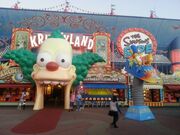 )
Once you board your vehicle you're in for one surprise after another as you embark on a wild, over-the-top ride through the park... flying, floating, and more or less crashing your way through Krustyland's kiddie attractions, stunt shows, and thrill rides.
Be sure to keep an eye out for many of your favorite characters from the TV series in this all-new animated adventure, which takes you through Springfield and beyond... it's the first-ever attraction based on the show!
State-of-the-art digital projectors cover an 80 ft. diameter dome surface with an image four times the standard High Definition found in most home theaters, and twice what you'd experience in a normal digital theater.


All the character voices in the attraction were performed by the original stars of the long-running The Simpsons show.


Hilarious new The Simpsons animation was created not just for the ride, but for the pre-show and queue areas as well.
Ride along with The Simpsons™ as they visit Krustyland, the low-budget theme park created by famed TV personality and shameless product huckster Krusty the Clown. Is somebody out to sabotage the park? You'll find out as you join Homer, Marge, Bart, Lisa and Maggie and enter through the carnival-like midway.
Information for this article came from:
http://www.universalorlando.com/Rides/Universal-Studios-Florida/The-Simpsons-Ride.aspx