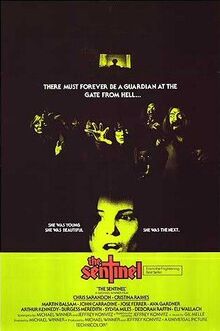 The Sentinel is a 1977 American horror film directed by Michael Winner and starring Cristina Raines, Chris Sarandon, Ava Gardner, Burgess Meredith, Sylvia Miles, and Eli Wallach. Christopher Walken, Jeff Goldblum, John Carradine, Jerry Orbach, Tom Berenger, and Beverly D'Angelo also appear in the film. It is based on the 1974 novel of the same name by Jeffrey Konvitzwho also co-wrote the screenplay with director Michael Winner. The plot focuses on a young model who moves into a historic Brooklyn brownstone that has been sectioned into apartments, only to find that its proprietors are excommunicated Catholic priests, and the building is a gateway to hell.
The film was released by Universal Pictures in 1977. It is completely unrelated to the 2006 political thriller of the same name.
Ad blocker interference detected!
Wikia is a free-to-use site that makes money from advertising. We have a modified experience for viewers using ad blockers

Wikia is not accessible if you've made further modifications. Remove the custom ad blocker rule(s) and the page will load as expected.