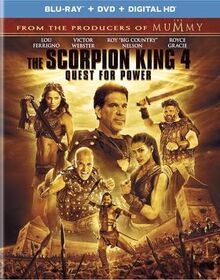 The Scorpion King 4: Quest for Power (previously known as The Scorpion King: The Lost Throne) is a 2015 direct-to-video sword and sorcery film. It was released on Netflix on January 6, 2015. It is the fourth installment in The Scorpion King series and stars Victor Webster in the title role. This film continues the story of Mathayus, after the events in The Scorpion King 3: Battle for Redemption.
Ad blocker interference detected!
Wikia is a free-to-use site that makes money from advertising. We have a modified experience for viewers using ad blockers

Wikia is not accessible if you've made further modifications. Remove the custom ad blocker rule(s) and the page will load as expected.