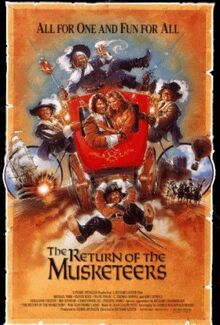 The Return of the Musketeers is a 1989 film adaptation loosely based on the novel Twenty Years After (1845) by Alexandre Dumas. It is the third Musketeers film directed by Richard Lester, following 1973's The Three Musketeers and 1974's The Four Musketeers. Like the other two films, the screenplay was written by George MacDonald Fraser.
Ad blocker interference detected!
Wikia is a free-to-use site that makes money from advertising. We have a modified experience for viewers using ad blockers

Wikia is not accessible if you've made further modifications. Remove the custom ad blocker rule(s) and the page will load as expected.