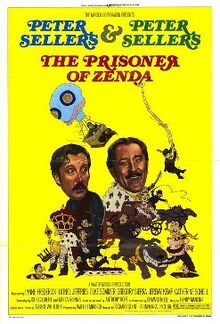 The Prisoner of Zenda is a 1979 American comedy film directed by Richard Quine and adapted from the adventure novel by Anthony Hope, first published in 1894. The novel tells the story of a man who has to impersonate a king, whom he happens to closely resemble, when the king is abducted by enemies on the eve of his coronation. An earlier adaptation of the story was made into a film in 1952 starring Deborah Kerr and Stewart Granger, and directed by Richard Thorpe.
The comedy was loosely adapted by Dick Clement and Ian La Frenais. It starred Peter Sellers, Lynne Frederick, Lionel Jeffries, Elke Sommer, Gregory Sierra, Jeremy Kemp and Catherine Schell. It has echoes of not only Hope's book but also several other well-known novels, especially Dumas's The Man in the Iron Mask. Sellers plays three roles: that of the Ruthenian King Rudolph V and the London cab driver Sydney Frewin who is brought in to portray the missing King with whom he shares an uncanny resemblance. Sellers also portrayed the aged King Rudoph IV at the start of the film, before he is killed in a hot air balloon accident. The score by Henry Mancini was a highlight of the film and gained some critical acclaim. It was also Quine's final film as director before dying in 1989.
Ad blocker interference detected!
Wikia is a free-to-use site that makes money from advertising. We have a modified experience for viewers using ad blockers

Wikia is not accessible if you've made further modifications. Remove the custom ad blocker rule(s) and the page will load as expected.