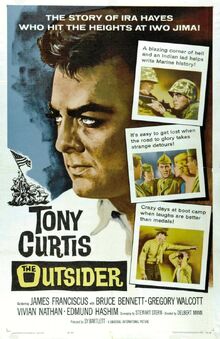 The Outsider is a 1961 biopic film about Ira Hayes, a Native American who fought in World War II in the United States Marine Corps and was one of the Marines who raised the flag on Iwo Jima. The film stars Tony Curtis as Hayes. It was directed by Delbert Mann.
Sorenson, another marine depicted, is a fictional composite of others who raised the flag.
Ad blocker interference detected!
Wikia is a free-to-use site that makes money from advertising. We have a modified experience for viewers using ad blockers

Wikia is not accessible if you've made further modifications. Remove the custom ad blocker rule(s) and the page will load as expected.