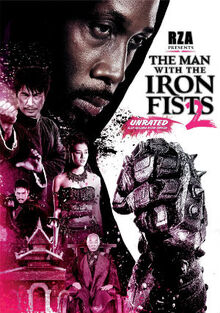 The Man with the Iron Fists 2 is a 2015 American direct-to-video martial arts action film directed by Roel Reiné and written by RZA and John Jarrell. It is the sequel to the 2012 film The Man with the Iron Fists. The film stars RZA, Sahajak Boonthanakit, Pim Bubear, Ocean Hou, Grace Huang, Andrew Lin and Khiri Steven Lowenstein. The film was released on DVD and Blu-ray on April 14, 2015.
Ad blocker interference detected!
Wikia is a free-to-use site that makes money from advertising. We have a modified experience for viewers using ad blockers

Wikia is not accessible if you've made further modifications. Remove the custom ad blocker rule(s) and the page will load as expected.