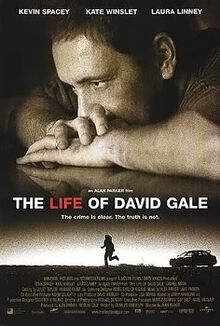 The Life of David Gale is a 2003 thriller film directed by Alan Parker and written by Charles Randolph. To date, it is Parker's last film as a director. The film is an international co-production between the United States, Germany, and the United Kingdom.
Kevin Spacey stars as the eponymous character, a college professor and longtime activist against capital punishment who is sentenced to death for killing a fellow capital punishment opponent. Kate Winslet and Laura Linney co-star.
Ad blocker interference detected!
Wikia is a free-to-use site that makes money from advertising. We have a modified experience for viewers using ad blockers

Wikia is not accessible if you've made further modifications. Remove the custom ad blocker rule(s) and the page will load as expected.