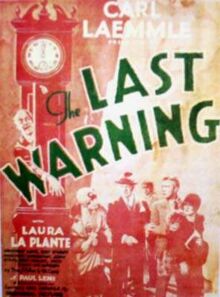 The Last Warning (1929) is a mystery film directed by Paul Leni. It is a companion piece to Universal Pictures 1927 production of The Cat and the Canary. This was the last film directed by Leni before his death from blood poisoning in Los Angeles on September 2, 1929. It was adapted from the 1922 Broadway melodrama mystery The Last Warning written by Thomas F. Fallon based on the story The House of Fear by Wadsworth Camp, the father of the writer Madeleine L'Engle. The play ran for 238 performances from October 23, 1922, until May 1923 at the Klaw Theatre.
The Last Warning was re-made in 1939 by Joe May under the title The House of Fear.
Ad blocker interference detected!
Wikia is a free-to-use site that makes money from advertising. We have a modified experience for viewers using ad blockers

Wikia is not accessible if you've made further modifications. Remove the custom ad blocker rule(s) and the page will load as expected.