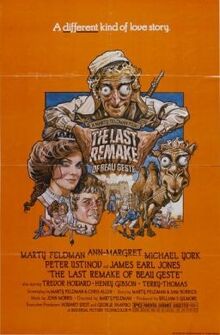 The Last Remake of Beau Geste is a 1977 American historical comedy film. It starred and was also directed and co-written by Marty Feldman. It is a satire loosely based on the novel Beau Geste, a frequently-filmed story of brothers and their adventures in the French Foreign Legion. The humor is based heavily upon wordplay and absurdity. Feldman plays Digby Geste, the awkward and clumsy "identical twin" brother of Michael York's Beau, the dignified, aristocratic swashbuckler.
Ad blocker interference detected!
Wikia is a free-to-use site that makes money from advertising. We have a modified experience for viewers using ad blockers

Wikia is not accessible if you've made further modifications. Remove the custom ad blocker rule(s) and the page will load as expected.