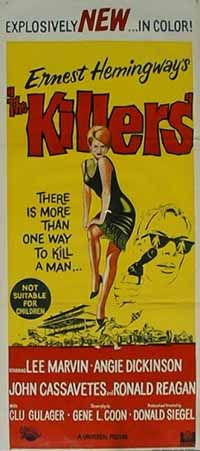 The Killers, released in the UK as Ernest Hemingway's "The Killers", is a 1964 crime film directed by Don Siegel, starring Lee Marvin, John Cassavetes, Angie Dickinson and Ronald Reagan, and released by Universal Studios. The movie remains notable for being future U.S. president Reagan's last theatrical film before entering politics as well as the only one in which he plays the role of a villain.
The picture is the second Hollywood adaptation of Ernest Hemingway's short story of the same name, following a version made in 1946 starring Burt Lancaster and Ava Gardner. At the time of its release, Marvin said that it was his favorite film. The supporting cast features Clu Gulager, Claude Akins, and Norman Fell.
Ad blocker interference detected!
Wikia is a free-to-use site that makes money from advertising. We have a modified experience for viewers using ad blockers

Wikia is not accessible if you've made further modifications. Remove the custom ad blocker rule(s) and the page will load as expected.