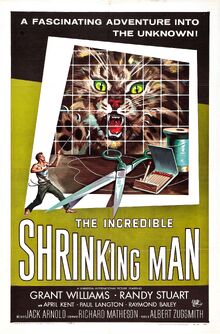 The Incredible Shrinking Man is a 1957 science fiction film directed by Jack Arnold and adapted for the screen by Richard Matheson from his novel The Shrinking Man (ISBN 0575074639). The film stars Grant Williams and Randy Stuart. The opening credits musical theme is by an uncredited Irving Gertz, with a trumpet solo performed by Ray Anthony.
The film won the first Hugo Award for Best Dramatic Presentation presented in 1958 by the World Science Fiction Convention. In 2009 it was named to the National Film Registry by the Library of Congress for being "culturally, historically or aesthetically" significant.
Ad blocker interference detected!
Wikia is a free-to-use site that makes money from advertising. We have a modified experience for viewers using ad blockers

Wikia is not accessible if you've made further modifications. Remove the custom ad blocker rule(s) and the page will load as expected.