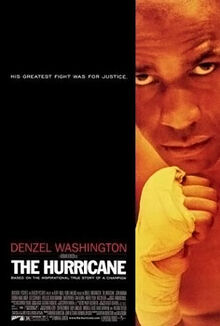 The Hurricane is a 1999 biographical film directed by Norman Jewison, and starring Denzel Washington. The script was adapted by Armyan Bernstein and Dan Gordon from the books Lazarus and the Hurricane: The Freeing of Rubin "Hurricane" Carter (published in 1991), by Sam Chaiton and Terry Swinton, and The Sixteenth Round: From Number 1 Contender To #45472(published in 1974), by Rubin "Hurricane" Carter. The film tells the story of a former middleweight boxer who was convicted for a triple homicide in a bar in Paterson, New Jersey. The film also depicts his life in prison and how he was freed by the love and compassion of a teenager from Brooklyn named Lesra Martin and his Canadian foster family.
The film received positive reviews, but has been criticized for inaccuracies by some media outlets and participants in Carter's trials.
Ad blocker interference detected!
Wikia is a free-to-use site that makes money from advertising. We have a modified experience for viewers using ad blockers

Wikia is not accessible if you've made further modifications. Remove the custom ad blocker rule(s) and the page will load as expected.