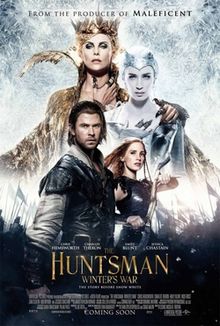 The Huntsman: Winter's War is a American dark fantasy action-adventure film directed by Cedric Nicolas-Troyan, a prequel/spin-off to the 2012 film Snow White and the Huntsman. The film is based on the characters from the German fairy tale "Snow White" compiled by the Brothers Grimm. The script is written by Frank Darabont, David Koepp, Craig Mazin and Evan Spiliotopoulos. The film stars Chris Hemsworth, Charlize Theron, Emily Blunt, Jessica Chastain and Nick Frost. Principal photography began on April 6, 2015. The film was released on April 22, 2016.
Ad blocker interference detected!
Wikia is a free-to-use site that makes money from advertising. We have a modified experience for viewers using ad blockers

Wikia is not accessible if you've made further modifications. Remove the custom ad blocker rule(s) and the page will load as expected.