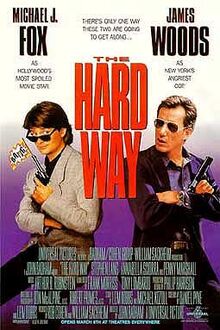 The Hard Way is a 1991 action thriller film directed by John Badham, and starring Michael J. Fox and James Woods. Stephen Lang, Annabella Sciorra, Luis Guzmán, LL Cool J, Delroy Lindo, Christina Ricci, Mos Def, Kathy Najimy, Michael Badalucco, andLewis Black appear in supporting roles.
Fox and Woods would later co-star again in 2002's Stuart Little 2, only this time around as the hero and the villain, respectively.
Ad blocker interference detected!
Wikia is a free-to-use site that makes money from advertising. We have a modified experience for viewers using ad blockers

Wikia is not accessible if you've made further modifications. Remove the custom ad blocker rule(s) and the page will load as expected.