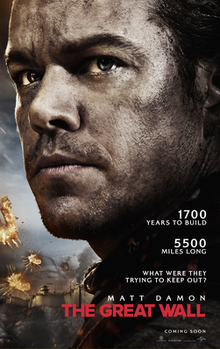 The Great Wall is a 2016 epic historical fiction action-adventure monster film directed by Zhang Yimou and written by Tony Gilroy, Carlo Bernard, Doug Miro, Max Brooks, Edward Zwick, and Marshall Herskovitz. The film stars Matt Damon, Jing Tian, Pedro Pascal, Willem Dafoe, and Andy Lau. Principal photography began on March 30, 2015, in Qingdao, China. The film was released in China on December 15, 2016, by Le Vision Pictures and China Film Group Corporation and is scheduled to be released in the United States on February 17, 2017, by Universal Pictures.
Ad blocker interference detected!
Wikia is a free-to-use site that makes money from advertising. We have a modified experience for viewers using ad blockers

Wikia is not accessible if you've made further modifications. Remove the custom ad blocker rule(s) and the page will load as expected.