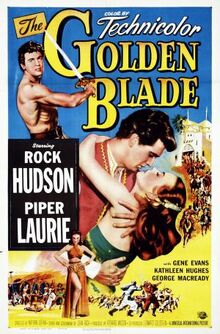 The Golden Blade is an adventure film from 1953 directed by Nathan Juran and starring Rock Hudson as Harun Al-Rashid and Piper Laurie as Princess Khairuzan. It is set in ancient Bagdad and borrows from the Arabic fairy tales of One Thousand and One Nights as well as the myth of King Arthur and the Sword in the Stone.
Ad blocker interference detected!
Wikia is a free-to-use site that makes money from advertising. We have a modified experience for viewers using ad blockers

Wikia is not accessible if you've made further modifications. Remove the custom ad blocker rule(s) and the page will load as expected.