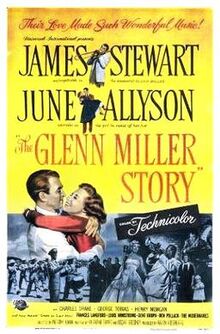 The Glenn Miller Story is a 1954 American film about the eponymous American band-leader, directed by Anthony Mann and starring James Stewart in their first non-western collaboration. Universal-International's first public announcements, early in 1953, employed the soon-discarded title, "Moonlight Serenade."
Ad blocker interference detected!
Wikia is a free-to-use site that makes money from advertising. We have a modified experience for viewers using ad blockers

Wikia is not accessible if you've made further modifications. Remove the custom ad blocker rule(s) and the page will load as expected.