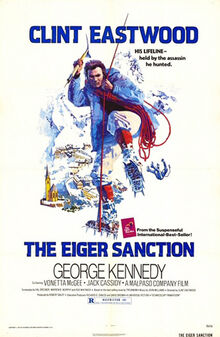 The Eiger Sanction
is a 1975 American thriller film directed by and starring Clint Eastwood. Based on the 1972 novel
The Eiger Sanction
by Trevanian, the film is about an art history professor, mountain climber
and former assassin once employed by a secret United States government agency who is blackmailed into returning to his deadly profession and do one more "sanction", a euphemism for killing. He agrees to join an international climbing team in Switzerland planning an ascent of the Eiger north face in order to complete a second sanction to avenge the murder of an old friend. The film was produced by Robert Daley for Eastwood's Malpaso Company, with Richard D. Zanuck and David Brown as executive producers, and co-starred George Kennedy, Vonetta McGee and Jack Cassidy.
Principal photography started on August 12, 1974, and ended in late September 1974. The picture was filmed on location on the Eiger mountain and Zurich in Switzerland, in Monument Valley and Zion National Park in the American Southwest, and in Carmel-by-the-Sea and Monterey in California. Special equipment and handheld cameras were employed to film the climbing sequences. Eastwood did his own climbing and stuntwork under dangerous conditions. Twenty-six-year-old British climber David Knowles died on the Eiger during the production. The film score was composed by John Williams.
The Eiger Sanction was released in New York City on May 21, 1975, and received mixed reviews. The general reaction among many reviewers offered criticism for the story and screenplay, and praise for the climbing footage and action sequences. The film, which was made with a budget of $9 million, earned $14,200,000 at the box office. The Eiger Sanction was first released in DVD format on December 15, 1998, and in Blu-ray format on November 10, 2015 by Universal Studios.