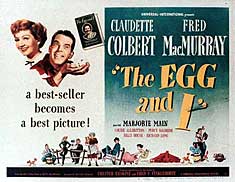 The Egg and I is a 1947 American romantic comedy film directed by Chester Erskine, who co-wrote the screenplay with Fred F. Finklehoffe, based on the book of the same name by Betty MacDonald and starring Claudette Colbert and Fred MacMurray, with Marjorie Main and Percy Kilbride as Ma and Pa Kettle.
The box office success of The Egg and I influenced the production of Universal-International's Ma and Pa Kettle franchise, which consists of nine feature films most of which star Main and Kilbride together. On May 5, 1947, Colbert and MacMurray reprised their roles in a radio version of the film that was broadcast on the Lux Radio Theatre.
At the 20th Academy Awards, Main was nominated for an Academy Award for Best Actress in a Supporting Role.
Ad blocker interference detected!
Wikia is a free-to-use site that makes money from advertising. We have a modified experience for viewers using ad blockers

Wikia is not accessible if you've made further modifications. Remove the custom ad blocker rule(s) and the page will load as expected.