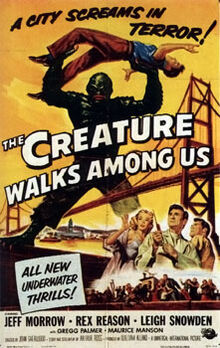 The Creature Walks Among Us is the third and final installment of the Creature from the Black Lagoon horror film series from Universal-International, following 1955's Revenge of the Creature. The film was directed by John Sherwood, the longtime Universal-International assistant director, in his directorial debut. Jack Arnold who had directed the first two films in the series, had moved on to "A-list" films and had felt he had no more to contribute to the horror genre. He suggested his assistant director could move up. The Creature Walks Among Us starred Jeff Morrow, Rex Reason and Leigh Snowden.
Ad blocker interference detected!
Wikia is a free-to-use site that makes money from advertising. We have a modified experience for viewers using ad blockers

Wikia is not accessible if you've made further modifications. Remove the custom ad blocker rule(s) and the page will load as expected.