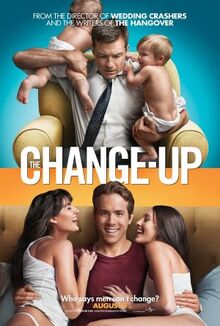 The Change-Up is a 2011 American comedy film produced and directed by David Dobkin, written by Jon Lucas and Scott Moore, and starring Ryan Reynolds and Jason Bateman. The film was released on August 5, 2011, in North America, by Universal Pictures, and received mostly negative reviews, with commentators criticizing the overly crude humor and generic plot, but praising the cast and particularly Bateman's against-type performance.
Ad blocker interference detected!
Wikia is a free-to-use site that makes money from advertising. We have a modified experience for viewers using ad blockers

Wikia is not accessible if you've made further modifications. Remove the custom ad blocker rule(s) and the page will load as expected.