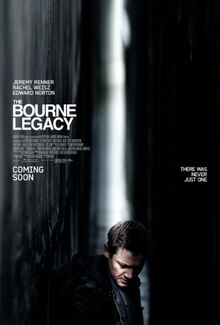 The Bourne Legacy is a 2012 American action spy thriller film directed by Tony Gilroy, and is the fourth installment in the series of films adapted from the novels originated by Robert Ludlum, and continued by Eric Van Lustbader. Although this film has the same title as Van Lustbader's first Bourne novel, The Bourne Legacy, the actual screenplay bears little resemblance to the novel. Unlike the novel, which features Jason Bourne as the principal character, the film centers on Black ops agent Aaron Cross (played byJeremy Renner), an original character. In addition to Renner, the film stars Rachel Weisz and Edward Norton.
The titular character Jason Bourne does not appear in The Bourne Legacy, because actor Matt Damon, who played Bourne in the first three films, chose not to return for a fourth film. However, there are various pictures of Damon as Bourne shown throughout the film, and his name is mentioned several times. Tony Gilroy, co-screenwriter of the first three films, sought to continue the story of the film series without changing its key events, and parts of The Bourne Legacy take place at the same time as the previous film,The Bourne Ultimatum (2007).
In The Bourne Legacy, Aaron Cross is a member of a black ops program called Operation Outcome whose subjects are genetically enhanced. He must run for his life once former CIA Treadstone agent Jason Bourne's actions lead to the public exposure of Operation Treadstone and its successor Operation Blackbriar.
Filming was primarily in New York, with some scenes shot in the Philippines, South Korea, Pakistan and Canada. It was theatrically released on August 10, 2012, in the United States. It received mixed reviews, with critics praising the story and Renner's performance but critics seemed disappointed with Matt Damon's absence as well as the lack of shaky camera work that the second and third films had utilized.
Ad blocker interference detected!
Wikia is a free-to-use site that makes money from advertising. We have a modified experience for viewers using ad blockers

Wikia is not accessible if you've made further modifications. Remove the custom ad blocker rule(s) and the page will load as expected.