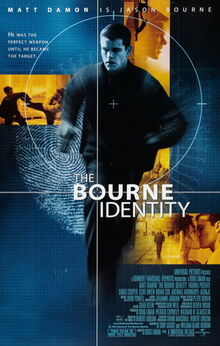 The Bourne Identity is a 2002 American-German action spy thriller film adaptation of Robert Ludlum's novel of the same name. It stars Matt Damon as Jason Bourne, a man suffering from extreme memory loss and attempting to discover his true identity amidst a clandestine conspiracy within the Central Intelligence Agency (CIA). The film also features Franka Potente, Chris Cooper,Clive Owen, Julia Stiles, Brian Cox and Adewale Akinnuoye-Agbaje. This, the first in the Bourne film series, is followed by The Bourne Supremacy (2004), The Bourne Ultimatum (2007), and The Bourne Legacy (2012).
The film was directed by Doug Liman and adapted for the screen by Tony Gilroy and William Blake Herron. Although Robert Ludlum died in 2001, he is credited as the film's producer alongside Frank Marshall. Universal Pictures released the film to theatres in the United States on June 14, 2002, and it received a positive critical and public reaction.
Ad blocker interference detected!
Wikia is a free-to-use site that makes money from advertising. We have a modified experience for viewers using ad blockers

Wikia is not accessible if you've made further modifications. Remove the custom ad blocker rule(s) and the page will load as expected.