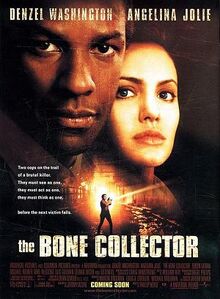 The Bone Collector is a 1999 psychological thriller film starring Denzel Washington and Angelina Jolie, directed by Phillip Noyce and produced by Martin Bregman.
The movie was based on the crime novel of the same name written by Jeffery Deaver, concerning the quadriplegic detective Lincoln Rhyme. It was the first book of the Lincoln Rhyme series.
The film takes place in New York City in 1999.
Ad blocker interference detected!
Wikia is a free-to-use site that makes money from advertising. We have a modified experience for viewers using ad blockers

Wikia is not accessible if you've made further modifications. Remove the custom ad blocker rule(s) and the page will load as expected.