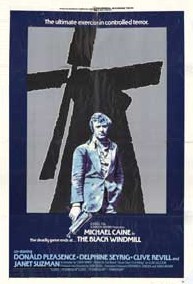 The Black Windmill is a 1974 British spy thriller directed by Don Siegel and starring Michael Caine, John Vernon, Janet Suzmanand Donald Pleasence. It was produced by Richard D. Zanuck and David Brown.
The screenplay by Leigh Vance is based on Clive Egleton's novel Seven Days to a Killing. The story involves a British secret service agent, John Tarrant (Caine), involved in the investigation of an international arms syndicate. Tarrant's son is kidnapped and held to ransom, leading Tarrant to discover that he cannot even rely on the people on his own side.
The film was made, in part, on location at Clayton Windmills, south of Burgess Hill, in West Sussex, England. It also featured scenes filmed at Aldwych and Shepherd's Bush tube stations. A section of the film was also shot at Pegwell Bay, Ramsgate Hoverport, where Tarrant makes his way across the channel and sneaks onto the back of a bus which is on board the hovercraft Sure.
On the website Rotten Tomatoes, the film has a 29% audience ranking (May 2013).
Ad blocker interference detected!
Wikia is a free-to-use site that makes money from advertising. We have a modified experience for viewers using ad blockers

Wikia is not accessible if you've made further modifications. Remove the custom ad blocker rule(s) and the page will load as expected.