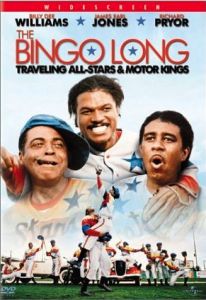 The Bingo Long Traveling All-Stars & Motor Kings (1976) is a comedic sports film about a team of enterprising ex-Negro League baseball players in the era of racial segregation. Loosely based upon William Brashler's novel of the same name, it starred Billy Dee Williams, James Earl Jones and Richard Pryor. Directed by John Badham, the movie was produced by Berry Gordy for Motown Productions and Rob Cohen for Universal Pictures, and released by Universal on July 16, 1976.
Ad blocker interference detected!
Wikia is a free-to-use site that makes money from advertising. We have a modified experience for viewers using ad blockers

Wikia is not accessible if you've made further modifications. Remove the custom ad blocker rule(s) and the page will load as expected.