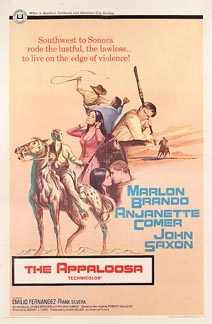 The Appaloosa (also known as Southwest to Sonora) is a 1966 American Western film Technicolor (set in the 1870s) from Universal Pictures starring Marlon Brando, Anjanette Comer and John Saxon, who was nominated for a Golden Globe for Best Supporting Actor for his portrayal of a Mexican bandit. The film was directed by Sidney J. Furie, shot in Mexico.
The 2008 Appaloosa film (starring Ed Harris and Viggo Mortensen) is not related to this film, although it has a similar title.
Ad blocker interference detected!
Wikia is a free-to-use site that makes money from advertising. We have a modified experience for viewers using ad blockers

Wikia is not accessible if you've made further modifications. Remove the custom ad blocker rule(s) and the page will load as expected.