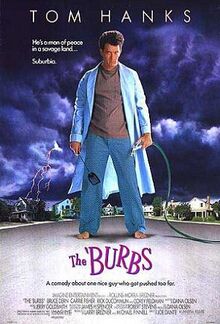 The 'Burbs is a 1989 American black comedy film directed by Joe Dante starring Tom Hanks, Bruce Dern, Carrie Fisher, Rick Ducommun, Corey Feldman, Wendy Schaal and Henry Gibson. The film was written by Dana Olsen, who also has a cameo in the movie. The film pokes fun at suburban environments and their eccentric dwellers.
Ad blocker interference detected!
Wikia is a free-to-use site that makes money from advertising. We have a modified experience for viewers using ad blockers

Wikia is not accessible if you've made further modifications. Remove the custom ad blocker rule(s) and the page will load as expected.